Houston Auto Glass Repair – Honda Vehicles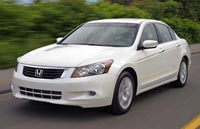 Simple, efficient, and reliable service without breaking the bank. That is what Affordable Auto Glass in Houston strives for when it comes to your Honda. Find yourself stuck near the Galleria with chipped glass? End up with a windshield crack while driving your Honda around Pasadena? In need of immediate glass replacement after walking out to your Honda only to discover a vandal had wreaked havoc?
You're not alone. We realize bad luck strikes at any given moment, and our pleasant customer-service folks and well-trained, highly experienced craftsmen are available to lighten the load. If your Honda requires repair or replacement of its glass, you've come to the right place: We use top-of-the-line goods and our workers are among the best in the business, honing their craft at five locations throughout Houston.