Houston Auto Glass Repair – Mercedes Vehicles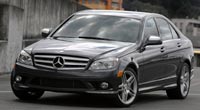 You can invest practically everything in your beloved Mercedes, but you can't always prevent accidents or other misfortune. Who are you going to call if you're suddenly in need of windshield replacement? Who can you turn to if something unforeseen causes your passenger-side glass to spider-web?
Affordable Auto Glass is there for you — and your Mercedes — wherever you are located throughout Houston. We set up shop in several strategically placed locations (including Bay area, Pasadena, the Galleria) so we're within earshot or arm's length for your glass replacement and glass repair needs. Our certified technicians always take into account your comfort and well-being, so they make a point to abide by federal safety standards with proper installation of all glass. Don't be left holding the bag during your car's time of need; give us a call or stop by at your convenience.