Houston Auto Glass Repair – Toyota Vehicles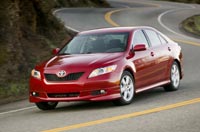 If you're concerned about your the door glass or windshield of your Toyota, your worries are over. With a handful of Affordable Auto Glass centers scattered throughout Houston, you're bound to find one near you. Put your mind at ease, because our repair and installation services all but assure you of no more leaks or fit-related trouble.
Our workers are not only aware of how critical glass is as a structural component but also the difference between laminated (windshield) and tempered (side and back glass). Your Toyota calls for glass that will keep you safely inside the vehicle and offset the damage on impact. Who better to trust than a long-standing business whose name represents experience, quality and reliability? Our glass repair and replacement service resonates from Pasadena to the Galleria and bay area. Give us a chance and you'll see why.